WHAT IS INCLUDED WITH YOUR COUNTERTOP PROJECT
Detailed Pricing It's clear exactly what you are paying for & nothing is hidden into the price
No Middleman​ Get straightforward answers directly from your Project Inside Advocate
Precision Fabrication​ We prefer machine precision over handcrafted to ensure every piece has an accurate fit. 
Professionally Trained Craftsman & Installers​ We do not use subcontractors, so you're dealing with the same company from start to finish.
SUPER-FAST TURNAROUND​ The average turnaround time is 1 week! Faster than nearly every competitor in the area. 
High Quality Quartz Countertops in Albany, NY
Distinctive Surfaces, the innovator quartz countertop fabrication and installation company, provides high quality services for both commercial and residential projects in Albany and the nearby regions. 
We offer our customers with many years of experience as an independent contractor that has seen us working on hundreds of commercial and residential projects.
What are Albany Quartz Countertops?
Engineered using some of the hardest natural materials, quartz countertops are inarguably the best and most durable countertop option. 
Quartz Countertops in Albany, NY add a special aesthetic appeal, with their eye catching appearance. They are available in a wide array of colors, including apple green and fire-engine red, as well as different shades of black, earthy browns, or creams, adorned with sparkly patterns and veins to mimic the look of granite or marble. 
The only difference between quartz countertops and natural stone countertops is that quartz countertops are engineered in factories, whereas granite or marble is mined straight from the earth. 
The primary ingredient in these countertops is ground quartz (which makes up about 94 percent of the entire slab), combined some resins to bind it together and pigments to bring out the attractive colors. 
For some quartz countertops designs, there are some additional amounts of metallic flecks or recycled glass. These are meant to help make the countertops nonporous, stain and scratch resistant, so that you do not have to seal them. 
Quartz – a perfect blend of beauty and strength
There are many benefits of choosing Quartz Countertops in Albany, NY, for kitchens and bathrooms that see high traffic. Some of these benefits include:
Color and Style Variation – Quartz countertops come in a wide variety of colors with random patterns of flecks, swirls, sparkles, and veining which makes it almost indistinguishable from natural stone.
Durability – Arguably the most robust choice, quartz is made from one of the hardest minerals on earth with a rating of seven on the Mohs scale. For reference, diamonds are the hardest mineral and have a score of ten.
Low-Maintenance – Because of the use of resins in binding, the quartz countertops are non-porous, meaning they don't require sealing, are scratch and stain resistant, and anti-microbial.
Design-Friendly – The polyester resins tolerate cleaner cuts that won't chip, as well as being more flexible than natural stone. This composition allows for bending and shaping as necessary for sinks, islands, and unusual shapes, as well as a finished product with almost indiscernible seams. 
Why Buy Quartz Countertops from Distinctive Surfaces?
Get affordable Quartz Countertops in Albany, NY at unbeatable factory direct prices! At Distinctive Surfaces, we specialize in offering our customers with cost effective solutions all their countertop needs. 
Shop for quartz countertops from us and enjoy the following benefits:
We have a Quartz line that includes different colors strategically chosen to meet market demands. Our Quartz countertops combines up to 94% of quartz with a modern thermo-cure, resin binding technology.

 

Our quartz countertops come directly from our state-of-the-art manufacturing facility. This means that we sell them at factory direct or wholesale prices. Quality and affordability is our core value.
Quartz Countertops from Distinctive Surfaces are perfect for kitchen, bathroom and any other indoor surface application. We stock ideal colors for all your indoor residential and commercial projects, all at very affordable rates!
Quartz Countertops Fabricator and Installer in NY
Distinctive Surfaces is a house hold name in the Construction Industry, thanks to our award-winning customer service. We have been trusted with some of the most exquisite, multi-million property development projects in New York.
Is your home ready for new quartz countertops? Schedule a free no-obligation at-home consultation with one of Distinctive Surfaces' countertops expert and learn about all the available options to fit your budget and design preferences. We are committed to the satisfaction of our customers. 
Our goal is for our products to fit your exact specifications with a near non-existent margin of error. 
High quality service and product! I contracted with Distinctive Surfaces to cut a few smaller pieces for my bathroom remodel. Kathryn was extremely helpful in helping me pick out the perfect stone and the cutting team was willing to squeeze this odd small order in. The service from a great local small business can't be beat! I would highly recommend Distinctive Surfaces for any solid surfaces you need in your next project.
Kathryn was exceptionally pleasant and knowledgeable when we stopped in to look at granite for my daughter. She checked inventory and prices for us despite the fact that she knew it may not have resulted in a sale. I can't remember a more pleasant shopping experience. When the time comes for a new kitchen I will absolutely become a customer of Kathryn.
Codey Staulters
2021-08-09
Great Experience! Needed help with a service call and even though they couldn't help me directly, Kathryn went above and beyond. She forwarded me all information and a contact who could help me out. Will be reaching out in the future for all of my countertop needs.
I got a small specialty job done at a great price and short lead time. When you need something in granite, ask these folks!
Mark Alexander
2021-02-26
We were looking to upgrade our counters in the kitchen with quartz and got quotes from different fabricators in the Capital area. Distinctive Surfaces was best quote and were willing to remove old granite for a cost when many fabricators ask you to use a separate contractor. From initial positive response of Dan Razzano, the owner after an apparent glitch with communication on the website, to working with Kristin on operational issues and John with fabrication and installation all went well and completed within two weeks. Thank you to the entire team! I would recommend using Distinctive Surfaces in Round Lake!
I normally don't take the time out to write reviews but I feel compelled to share my experience. Distinctive Surfaces Inc. name supports the dedicated service and products they provide. It's a characteristic that puts them in a class by themselves. The personnel that I dealt with were beyond friendly and most importantly knowledgeable. I appreciated the support that I received during this process. I went to their office not knowing where to turn nor did I have a full knowledge of the stone products. The office was closed but Dan invited me to come into the showroom. The hospitality won me over and at that moment, loyalty was gained. Dan connected me to Kristin and John who were both very knowledgeable and their communication was thorough. Nothing was left unturned. John, the creator, masterfully installed our countertop and backsplash. We are so thankful for the service that was provided. Thanks for holding my hand throughout this process and most importantly, we are very happy with the product. Retha and Ken M.
Great communication, great products, and wonderful people to deal with. We recommend them HIGHLY!
Distinctive Surfaces just cut and installed new granite countertops for kitchen renovation. We had a great experience with John picking out our Granite from their yard. They were extremely professional when they came to make the templates and do the installation and the installed countertops look amazing! Will work with them again…
I can't say enough about this business!! They are on point from start to finish. They also made suggestions when they came out to measure which made all the details pop!! Highly recommend this business.
Lisa Muscatello
2020-07-20
Distinctive Surfaces were easy to work with! Great communication from start to finish with our granite countertop and sink for our bathroom. It is SO beautiful! We're so pleased. THANK YOU.
The Possibilities of your Space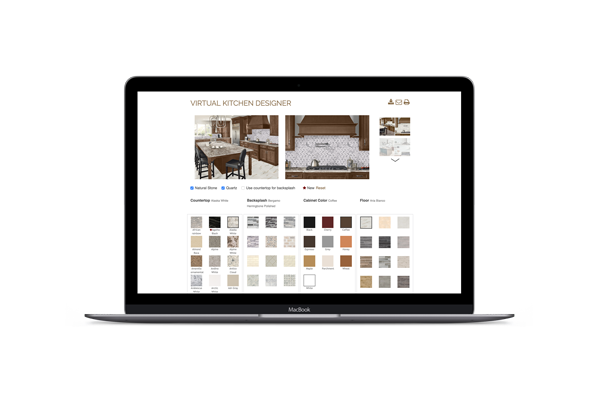 Uncover the potential of your space with one of our design visualizers. Mix and match colors of countertops, cabinets, backsplash, and flooring to find the perfect mix. Email or print the design and one of our design specialists can help you make the dream a reality.
If you need help our experienced and talented design staff is ready to assist you in putting together a beautiful and unique kitchen, bathroom, backsplash, or countertop project, whether large or small.
Quote, Specify Details, Template, CAD, Fabrication, Installation
Ready To Start Your Project?
Contact one of our designers and talk about your project today!