Outline
I. What Are Outdoor Kitchen Countertops?
II. Choosing the Right Outdoor Kitchen Countertops
III. Benefits of Outdoor Kitchen Countertops
IV. Different Colors and Materials for Outdoor Countertops
V. Where to Find Great Outdoor Kitchen Countertop in New York
VI. Conclusion: Choose Distinctive Surfaces for Quality Countertops 
Sprucing up your outdoor space with outdoor kitchen countertops can make the perfect space for entertaining. Countertops are the perfect finishing touch to any outdoor kitchen and add a touch of class and sophistication. Whether you're looking for a sleek, modern design or a classic look, there are plenty of styles to choose from. In this article, we'll explore what outdoor countertops are, the benefits of having countertops, why it's important to choose the right materials and colors according to your needs, and where you can find great countertops in New York.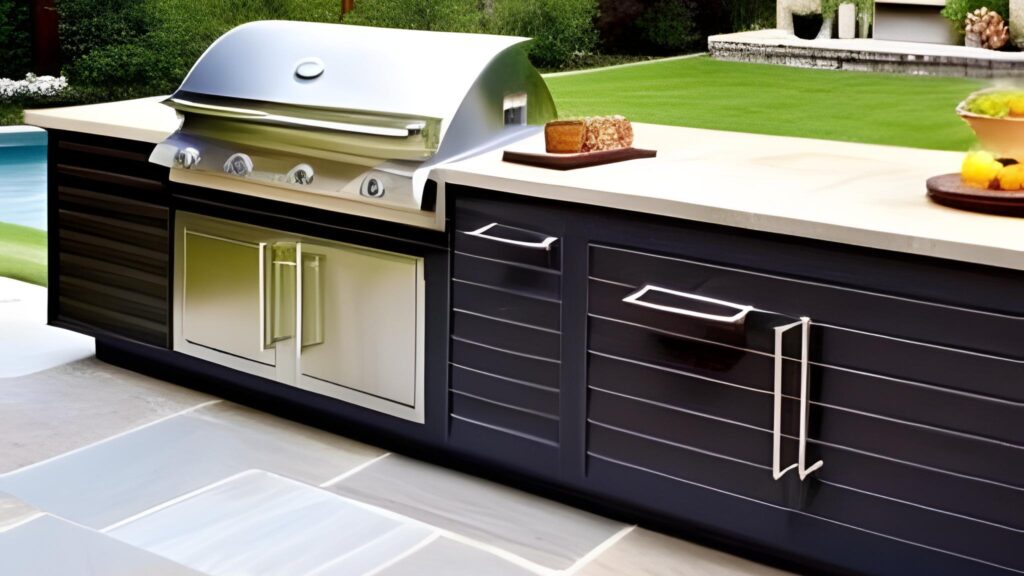 What Are Outdoor Kitchen Countertops? 
Outdoor countertops fabrications are surfaces that are specifically designed to be used outdoors and can withstand extreme weather conditions. They are made from a variety of materials, including concrete, stone, wood, and stainless steel, and come in a variety of colors and styles. They're perfect for creating a functional outdoor cooking and dining area and can be used as a prep space for grilling or for serving food.
Choosing the Right Outdoor Kitchen Countertops
When selecting kitchen countertops, it's important to consider the type of material and color that will best suit your outdoor space. The surface should be easy to clean, durable, and resistant to the elements. Here are some of the characteristics to keep in mind when selecting countertops.
Material – Look for countertops that are made from outdoor-friendly materials, such as stone or concrete, that can withstand extreme temperatures, moisture, and UV rays.

Style – Choose a style that complements the other outdoor elements in the space.

Color – Choose a color that will work well with the other elements in the space, such as furniture, accessories, and decorative elements.
Benefits of Outdoor Kitchen Countertops
Outdoor countertops have a wide range of benefits, both aesthetically and functionally. Here are the top benefits: 
They Add Beauty – Countertops come in a variety of styles and materials, so you can find the perfect one for the look you're going for. They instantly boost the look of any outdoor area by adding a stylish touch.

They Are Durable –

Outdoor kitchen countertops

are made from materials that are designed to withstand the elements, as well as the wear and tear of everyday use.

They Increase Functionality – Outdoor countertops provide additional prep space for outdoor cooking and dining, making it easier to entertain and provide a better experience for your guests. 

They Can Be Highly Customized – Outdoor countertops can be tailored to your exact needs. From choosing the perfect style to the correct materials and even custom sizes, you can get the perfect countertop for your outdoor kitchen. 
Different Colors and Materials for Outdoor Countertops
The materials used for outdoor countertops vary from one material to another. Generally, the material chosen is a function of durability, weather-resistance, and budget. Here are some of the most popular materials used: 
Concrete – Concrete countertops are incredibly durable and can withstand extreme temperature fluctuations, rain, and other harsh elements. They can also be customized to the desired color and style. 

Stone – Stone countertops are the most expensive option, but they are also the most durable and provide a classic look that never goes out of style. There are a variety of stones to choose from, including granite, marble, and quartz. 

Wood – Wood countertops are a great option for outdoor kitchens as they can handle bad weather and are easy to maintain. Although they should be treated regularly to prevent damages, they are a beautiful and timeless material. 

Stainless Steel – Stainless steel countertops are incredibly durable and can handle the elements. They are less customizable than other materials, however, they can provide a modern look to outdoor kitchens. 
Where to Find Great Outdoor Kitchen Countertop in New York
When it comes to finding the perfect outdoor kitchen countertop in New York, look no further than Distinctive Surfaces. They specialize in custom countertops, and they offer a wide range of styles, colors, and materials to choose from. Their experts will work with you to find the perfect countertop that suits your individual needs and budget. Plus, with their expert team of fabricators and installers, you can rest assured that your kitchen countertops will be installed perfectly and last for years. 
Conclusion: Choose Distinctive Surfaces for Quality Countertops
Outdoor countertops are the perfect way to spruce up your outdoor kitchen and make it a stylish and functional space for entertaining. There are a variety of colors and materials to choose from and it's important to select one that will last for years. For quality outdoor kitchen countertops in New York, choose Distinctive Surfaces. They specialize in creating custom countertops to perfectly suit your needs. With their expert team of fabricators and installers, you can trust that your countertops are of the highest quality and will last for years to come.  Visit distinctivesurfacesny.com for more information.